Contents Start

e-Learning Town
Welcome to e-Learning Town!
About e-Learning Town
e-Learning Town is the online learning platform for students as well as the learning management system for teachers.
Students reinforce their language skills of Reading, Writing, Listening, Speaking and even Vocabulary while practicing each part of the additional activities to the core program of Super Star. And online tests help students organize what they have learned throughout the Unit.
Students' learning progress is monitored and managed effectively through the Learning Management System. Online reports help both teachers and parents understand their students' status and find how to encourage students to move forward to the next step of learning.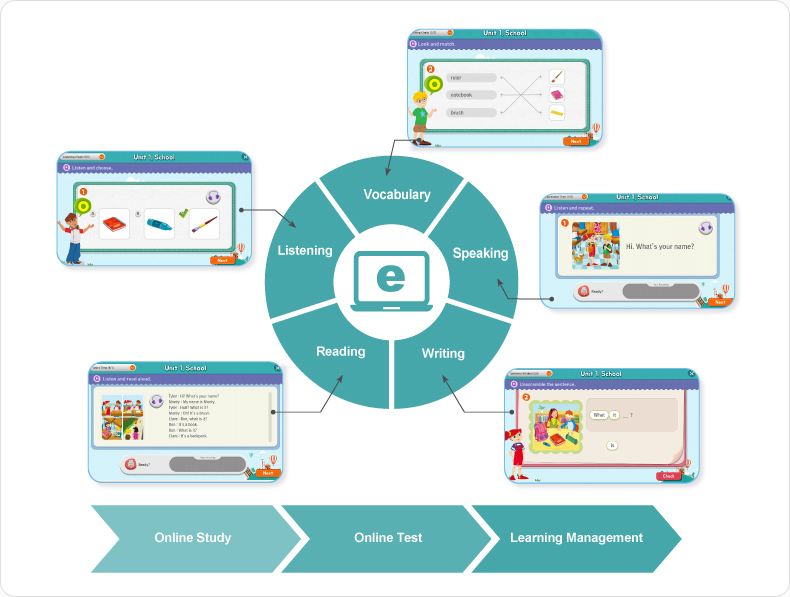 For Students
Online Study

Online Study is designed to develop each language skill. It helps students improve the weak parts of their language skills while going through various activities.

Online Test

Online Test is designed to assess students' achievement carefully, based on the test criteria.

Online Test can be activated only after completing all Online Study sections by Unit.

Report Card

Unit Report Unit Report shows the results of Unit Test. It provides diagnostic analysis on the result as well as its score, visual graphs and detailed comments.

Progress Report Progress Report shows the accumulated test results to identify the progress of an individual student. Progress Report is provided at Mid-term and Final session.
For Teachers
Class Management

Teachers can create classes to manage students'
learning.

Learning Management

Teachers can monitor each student's activities, test scores and report cards.

Teachers can manage student's progress by class.

Resource Center

Teachers can download various teaching materials from the Resources.